Who the hell is

?
He is a comic strip character, created in 1910 by George Herriman. The comic was named "Krazy Kat" and was first published with this name on 1913. It ran until 1944, when its author died.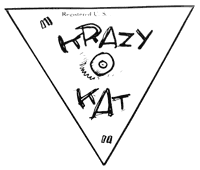 The story is quite simple. There's three main characters, "Krazy", a cat (We'll never know if it's a male or a female), "Ignatz", a mouse and "Pupp" a dog who is also the Sheriff. Krazy is in love with ignatz, which hates him and spend most of his time to throw a brick onto Krazy's head. For Krazy's point of view, this brick-throwing thing is just a manifestation of Ignatz's love for him/her. Offisser Pupp is in love with Krazy and spend the most of his time sending Ignatz to jail, because he can't stand seeing him throwing bricks at Krazy's head.
All of this crazy things happens in the Coconino county, which is inspired from the Arizona's deserts, but a lot more funny.

Not very promising hmmm ?

Just add to all that stuff some fantasy, some poetry, a wonderful and somewhat surrealistic drawing, shake a lot, powder with some of Herriman's special recipe, and the magic is here.



Partial reproduction of the May 11, 1941 Sunday page
So...
So Ignatz hates Krazy and try - by any mean that a comic character can have - to send the brick on Krazy's head.
So Krazy really want this to happen and is always looking for Ignatz, to play with him, to send him gifts, to be with him.
So Pupp tries to find out what happened everytime he hears the "Pow", leading to the imprisonment of Ignatz. He's always trying to supervise Krazy.
But Krazy Kat is not only the story of a mouse that hates a kat, it is a great trip in the dreams and the fantasy of its author, it's funny, it's poetic. It's a great patchwork of sensible characters that live in an amazing county - the Coconino county - with an amazing decor, usually a floating one.
To try to convince you (if it's not yet done), I have two sunday pages for you, from the early ages - 1918. These are not the best ones I could provide you, but shows the spirit of what was "Krazy Kat" about these days.
Try to have a close look at both pictures (the small and the large one), and see - even in the small picture - the design of the entire page !
Have also a look to the introduction Cantor Jay made in his book "Krazy Kat : A novel in five panels".
Well, there's really nothing more to say in this page. Just try it, just read it, you'll love it. Not convinced yet ? try the links page, to see if other sites can convince you...
If you already want to know more, let's meet at the mouse evolution page