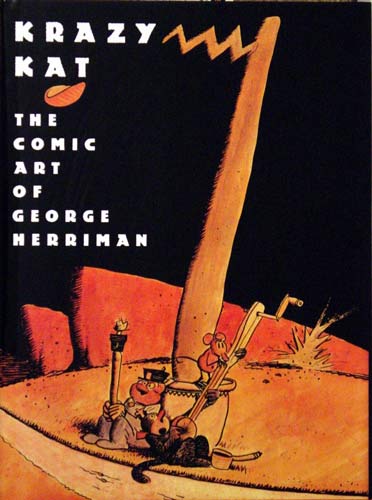 "a gentle monster of our new mythology"
Gilbert Seldes



Authors : Patrick McDonnell, Karen O'Connell, Georgia Riley de Havenon.
The only book that is not out of print !! Go get it !! Very nice work, to discover this amazing comic-strip...

The book is designed in three distinct parts :
The introduction, "The Krazy Kat That Walks By Himself", by Gilbert Seldes.
A nice biography, describing George Herriman, his life and work, and also Krazy Kat.
And more than 100 pages of Sundays reprinted (some colors) and 19 pages of dailies (76 days).
ISBN 0-8109-1211-2 (ISBN 0-8109-2313-0 pbk., Abradale ISBN 0-8109-8152-1)